Welcome to my new blog site! In the days to come, I'll migrate the archives of the old Cuba-Blog, which goes back several years.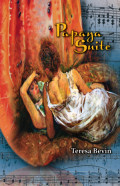 Coincidentally, I am also very happy to announce that my new book, "Papaya Suite," has been released and is available for your reading pleasure.  And I hope you will enjoy it!  "Papaya Suite" is a light-hearted novel about a young woman who emigrates from Cuba in the 1960s.  The story follows her through her adventures and loves, first in Spain then in the United States — a romp through life.  Read more about "Papaya Suite" on my website www.TeresaBevin.com/bevinfiction.  Copies can be purchased through the publisher, La Gota de Agua Press at:   http://www.edicioneslagotadeagua.com/catalog .
Stay tuned — there is more on the way!